Gadgets News
Star Wars Bad Batch Reunion Recap: Clone Wars Cameo Yina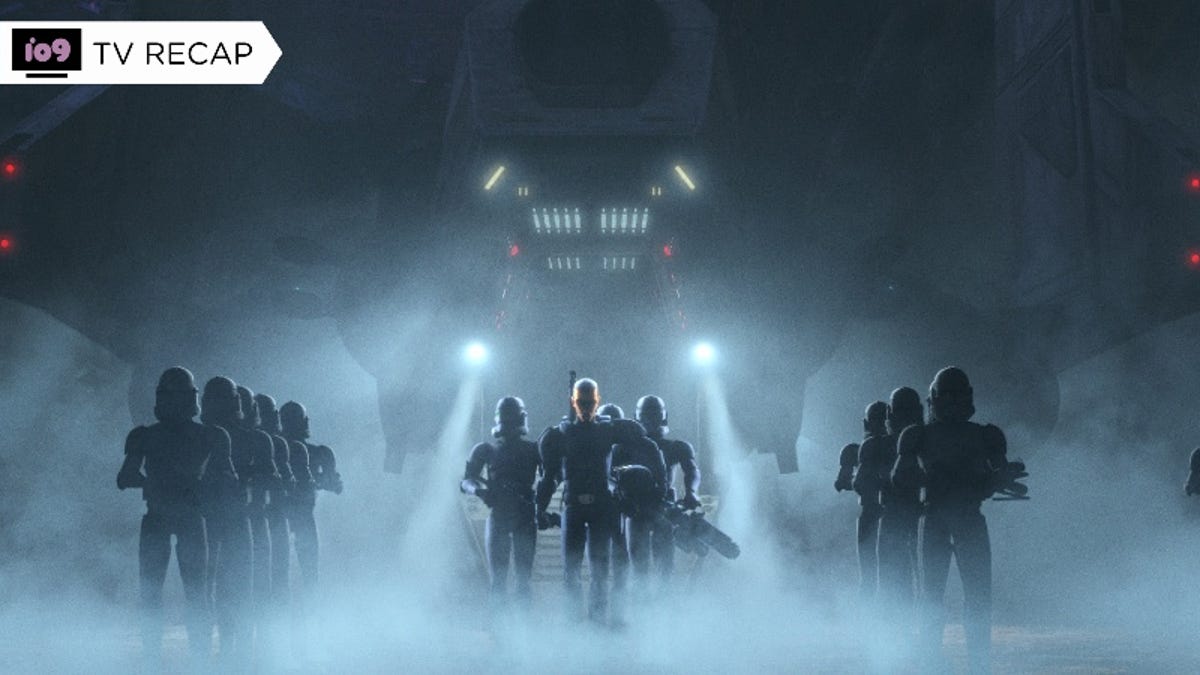 Do you know the phrase "Stuck between a rock and a hard place?" Well, that was it a new episode of Star Wars: Evil Group. Apart from this time there were a few rocks, a few strongholds, and a center? Clone Force 99, aka, Evil Group.
The eighth part of Star Wars: Evil Group called "Reunion," meaning the fifth member of the original Bad Batch, Crosshair, who has recently given in its device to prevent the body from becoming an ally of the Kingdom, unlike Hunter, Echo, Wrecker, Tech and Omega. The group had been off its radar for some time but had been spotted by Scrapper's Guild in the previous section, "Battle Scars," word of where he had returned to Kamino, where Crosshair and his army had been operating. The Kaminoans want the Omega or Bad Batch back to try but the Empire does not care. They want to be settled. After all, we will see that the Kaminoans are not taking any chances to do so and who will they hire a poacher to bring them? We had to wait and see.
All of this would have been difficult if Bad Batch had left Bracca at first but, he is in debt and in need of money, so he has been a long time trying to save data and weapons from the Jedi Starcruiser. It also gives Wrecker, the youngest kid on the team, more time to connect with Omega. Being a Wrecker, he does this by training him to disarm and then trick him into dying. Old Wrecker.
After a brief run with the Scrappers and enjoying a flying skiff, Batch realized his time was running out. He should save the ship soon. Wrecker and Omega go to the armory where they love the proton torpedo. Tech is starting to download any remaining files. Things are going well until Crosshair and the three high-ranking officers arrive. In most cases, this may not be for Clone Force 99, but now it is against their own. Each time they go, Crosshair is their part, which means that no matter how hard they try, they can find them quickly.
Crosshair after putting them in um, crosshairs, Hunter and Omega to plead for him. He tries to explain that he is being pressured to do so. It's a chip. Crosshair is carefree and offers a cool line of "Child's Purpose." Unfortunately, as this happens, Echo and Tech make up a get ready to launch big guns on top of them, a force that begins to destroy an entire room. Everyone falls and is crushed which gives the Evil One a chance to survive.
This survival puts the group inside the ion engine and in my mind, was the coldest part of the cycle. Looks like everything Star Wars The video or video has scenes on the big scenes but all we see is a small movement, a bridge, and maybe a built-in room. If we are lucky? Waste chute. But the whole part of Evil Group talking about them looking at all the little ways of one of these ships that leads them to the engine. And it was great to have such people inside the engine because you see the size, you realize that there are fewer people inside the engine, and then you think how big the engine should be to drive the ship to grow. I do not know. Something surprisingly satisfying about it in nerdy Star Wars way.
Going back to the scene, escaping through the engine would fool everyone, except Crosshair. Not only does it prevent their escape from the engine, but it also commands that the engine be turned on. Thanthwe? Meet the hardest part. The choice seems to be dying with a blaster fire or dying with a real fire from the engine, which is why Batch is making another plan. Explode the engine in the middle and fall to the ground, escaping the two types of death and gambling will not get one part. When the engine is about to ignite the system, the explosion stops, and the Evil Group begins to crash, just as the ion engine does Crossfire, causing him great pain.
After escaping from the downhill engine, which looked like a fun park ride, it was time for Bad Batch to get on their train and get off at Bracca. However, listeners, we know that Crosshair represented the army on their ship, which is why it was so dangerous when the incident came back to reveal that all the soldiers were dead. Who can have … oh, right, that gifted hunter.
By Cad Bane, one of the worst, trying to spread the word throughout the world. Very fond of from Demonstration Wars making his return successful. And, even though you didn't know how capable Cad Bane was, when he and Hunter showed off their first western shot, Cad Bane beat Hunter. Too much. He catches Omega and leaves Hunter dead.
The story ends after being shot by Hunter as he remembers when his comrades revived him and fought a world war. They are confused, frightened, and as soon as they leave Hunter explains that Omega has been taken by a lot of hunters and deserves to be found.
"Reunion" was another good part of Evil Group. He did not move the issue forward, but eventually brought Crosshair back into the mix, which had been set up for the last few episodes, and the way it took off from the last episode seemed like the second half of the larger story. I have never been a fan of throwing Cad Bane inside looking blue, especially when we know that Fennic Shand would still be looking for the Evil Team, but he would be a formidable foe for those moving forward.
What were your thoughts on "Reunion?" Tell us below.
---
Where do you think our RSS feed went? You can pick a new one here.
Source link